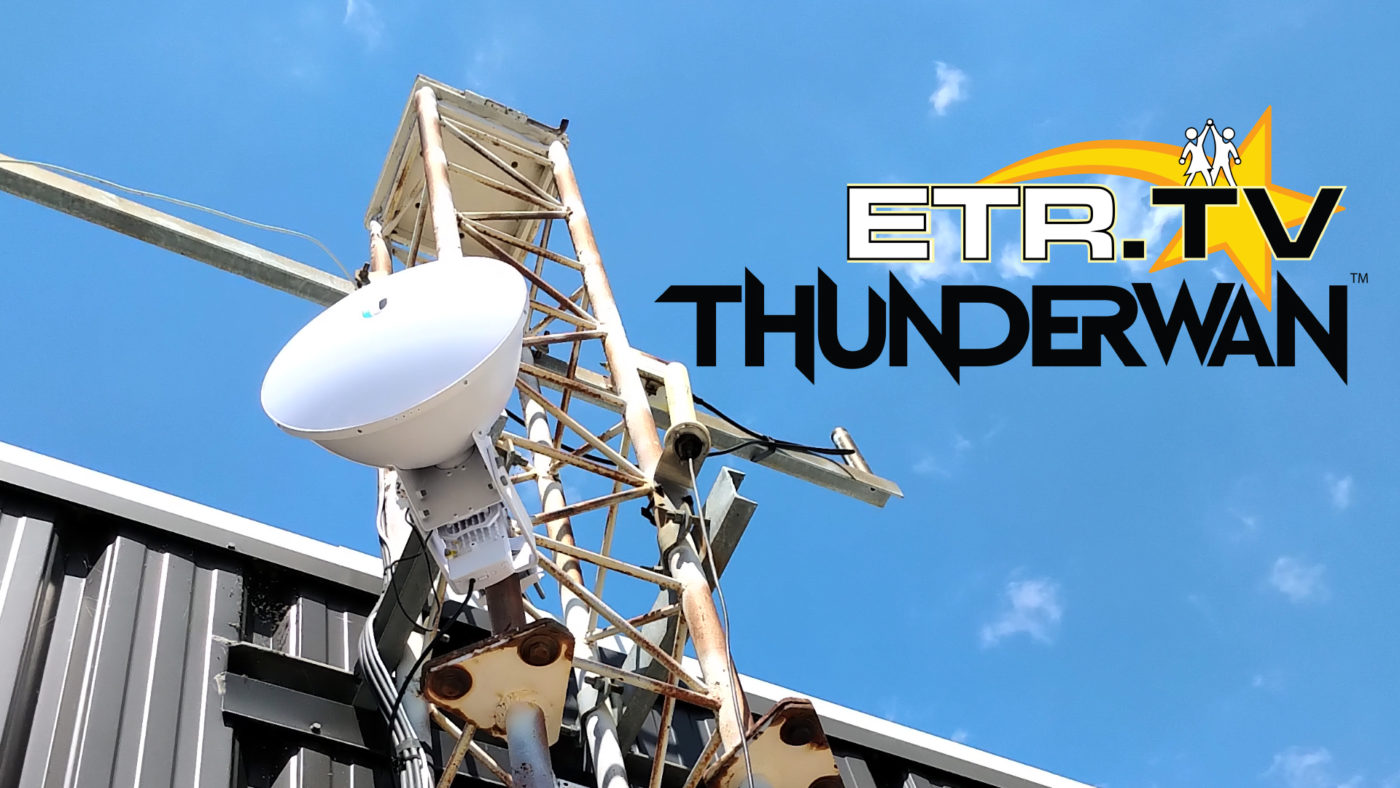 ETRdotTV ThunderWAN is our branded Wireless Internet Service that can provide high bandwidth access to select freestanding locations all around Toronto's downtown waterfront and Toronto Island. You can get the speed of fiber even without access to fiber. Currently, seasonal service is active for boaters at Toronto Island Marina, Toronto Island Sailing Club and at Island Yacht Club, with more locations coming.
Guest access is available at The Upper Deck Restaurant and Bar at Toronto Island Marina, at the IYC Clubhouse, and at the new Brunch Express (formerly Espresso Cultura) at One Yonge. ETRdotTV ThunderWAN subscribers may also log in to their secure accounts at any location that has our guest access.
Boater Internet
Utilizing our own digital links across the harbour to a commercial datacentre, ETRdotTV ThunderWAN enjoys almost unlimited Internet capacity. We peer with providers like Cogent, Beanfield, AT&T, Comcast, Cogeco, Rogers, Telus, Bell and others.
Sign up by clicking here, or phone or text Ron Shaw at 416 709 9072 or via email at ron.shaw@magnacom.ca
Service is 24×7 and is provisioned for 10Mb/s both upload and download speed PER DEVICE. Data transfer is UNLIMITED so you can stream away. We support most Windows 10 or 11, iOS, and Android devices with a standard account. You may have up to 3 devices connected with the standard account.
Security is provided by our RADIUS authentication server using Enterprise grade logins with unique usernames and passwords for every user. We can optionally also support non-enterprise devices such as smart TVs, game consoles and smart speakers.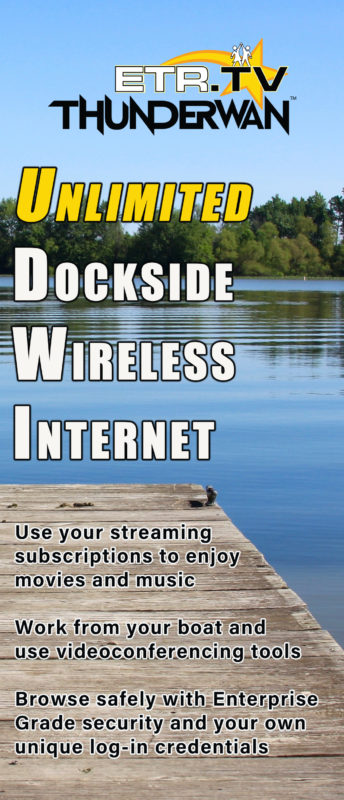 Here are our 2024 Visitor and Seasonal rate plans:
 Visitor 3 device Standard Tier prices (plus HST)
$42 per weekend Friday to Monday
$68 per 7 day week
$168 per single month
Seasonal account prices (plus HST)
Three Device Standard Plan: 
-Monthly rate for service for Full Season Segment (April through November commit) $74 (Segment total=$592)
-Monthly rate for service for Prime Season Segment (June through September commit) $108 (Segment total=$432)
One Device Mini Plan: 
-Monthly rate for service for Full Season Segment (April through November commit) $54 (Segment total=$432)
-Monthly rate for service for Prime Season Segment (June through September commit) $66 (Segment total=$264)
Additional device OR Smart TV/Game Console/Smart Speaker is $10 per month per device on Standard Tier plans. Additional devices are not available on Mini Tier plans. All seasonal plans require a 3 or 4 month prepayment. Please ask for details.
NEW for 2024: High-Performance Isolated Service add-on provides a total of up to 30Mb/s of unlimited data transfer directly to your boat! This service utilizes an onboard router and direct connection to our network, which bypasses our regular wi-fi infrastructure. This is of particular value to those subscribers who require an on-board network for printers or scanners, or direct wi-fi connections such as smartphone-to-TV Chromecast and similar devices that must communicate locally between themselves. Our Isolated Service will also improve videoconferencing applications such as Zoom and Teams. 
Isolated Service requires some specific hardware to be installed on your boat. You can make a one time purchase of this hardware for $200, and then your monthly charge is $10 plus your ETRdotTV ThunderWAN plan fee. Alternatively you can include the hardware cost as a rental charge in the monthly fee which then becomes $18 per month plus your ETRdotTV ThunderWAN plan fee. HST is added to all quoted prices. If equipment is rented it must be returned at the end of each season.
Please contact us if you would like more information on our High Performance Isolated Service.
There are currently no activation charges or winter account maintenance fees – no surprises, simple pricing!
Sign up Now - pay later