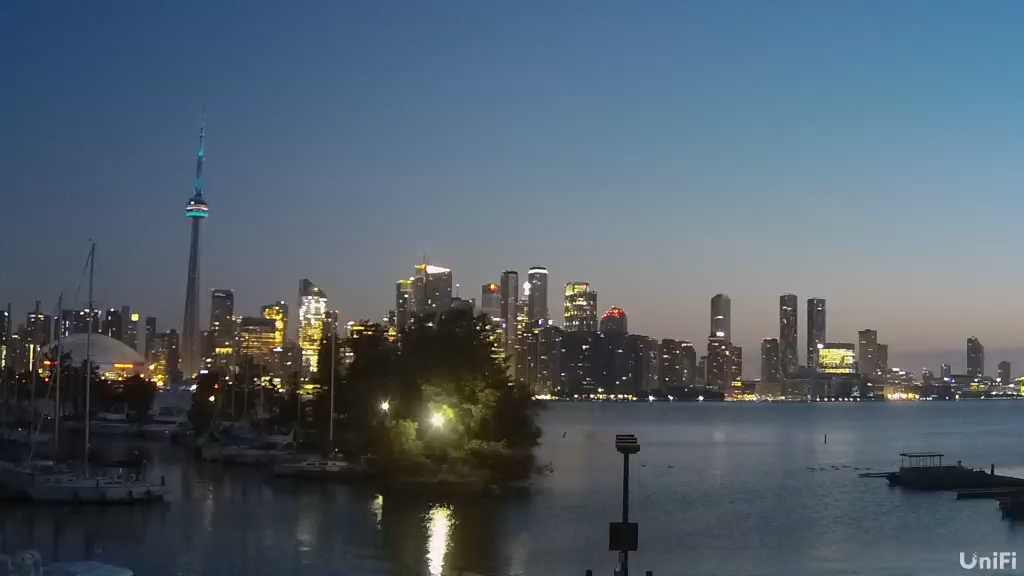 The above image was captured by our network camera mounted at Toronto Island Marina. The picture was taken at about 6:10am Eastern on September 4, 2023 – Labour Day of the last long weekend of the summer. The days are certainly getting shorter. The sun hasn't risen yet, but the glow of first light from the east is quite tranquil. And we've got a mini heat wave going with temps of 31C or higher expected for the next few days. Enjoy while you can! 
One of the things about the Toronto downtown skyline is that it's always changing. In fact, we are working on a project now that will see a new 100 storey building rise to take a place among – and above – the towers.
We will be updating this picture on a regular basis. Our view of the city will never be out of date!
Watch the New Year's Eve 2023 fireworks on The Toronto Waterfront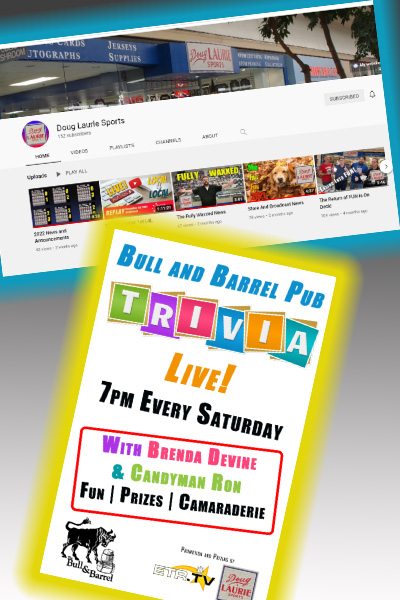 Services for Independent Business
Our ETRdotTV Channel services help independent, innovative and interesting businesses grow and connect with people.
Since ETRdotTV is about Life Success, Informed Buying and Fun, we do our best to use that as our guide for providing  our services. Life Success means health, wealth and general happiness. Informed Buying is the bridge to a value relationship – where business engages with employees, customers, and the community in a "win-win-win-win" exchange. Of course, Fun is the heart and spirit and satisfaction of the journey that takes its place in the mix.
Our goal is to help these businesses thrive and strengthen the attributes that make them special – through a practical focus on people, planet, and profit.
The methods we use to achieve this involves marrying the tried and true human touch with advantages gained through technology. Think about your own experiences interacting with business – companies that skillfully combine their personal service with beneficial and efficient processes are the companies that you want to deal with.
Specific ETRdotTV Channel Examples
Marketing Communication. We have provided a store front retailer with design and execution of printed and digital posters, eCommerce website and cloud computing instances, social media posting including a full YouTube production and management implementation, email campaigns, store operations optimization, logistics assistance and more. We have provided a real estate sales representative with a personalized website that included a live integration with the CREA MLS national property database.
Live Event Support. The ETRdotTV Channel provides audio visual support to a prominent yacht club event space for mid size corporate and social events. We provide a long running weekly licensed live trivia service to a popular pub year round and to a large marina summer patio restaurant and bar. We provide live broadcast quality live video streaming for a novel Chamber of Commerce small business member auction. We design, implement and manage customer contests and prize sourcing. Looks like fun!
Newly implemented in Fall 2022 is our ETRdotTV Present Facility, located adjacent to the ETRdotTV Centre within the One Yonge complex.
ETRdotTV Channel add-ons to ETRdotTV ThunderWAN. We operate and maintain a fleet of network cameras and live recording for premises and project monitoring (including for time lapse documentation of a massive real estate project by an independent developer) with full remote access. We will shortly implement a controlled door access system at a large marina. And we provide IP telephony to an independently owned café.
In all cases we work closely with the leadership of our independent business customers to tailor our offerings using a consultative and collaborative approach.
Finally, ETRdotTV is a planned NextGen digital TV channel that will be be for personal viewing by people seeking Life Success, Informed Buying and Fun. In a sense, you can say that everything we are doing now – all of our services – is preparation for this future endeavour.
If your business is independent, innovative and interesting please do contact us so that we might embark on a supporting role in your success!